Nurturing Yourself After Your New Arrival
This time 6 years ago, I was overdue with my oldest daughter, Gwyneth.
Christi Matson, TLM Pre/postnatal Exercise Specialist, Holistic Nutritionist, & mom of two.
Gwyn was "due" April 8 and she finally decided to enter the world on April 27 after 32 hours of back labor. April was the longest month of my life. I did a lot of waiting. And here I am, 6 years later, another April is proving to be the longest of my life. 
Sheltering in place is hard on anyone. It's especially hard on us moms. Waiting is hard. Whether you're waiting for your baby to be born or waiting for the world to go back to the way it was before. We are all waiting. We are all hoping everything will be okay.
If you're pregnant and due soon, it's hard to imagine life on the other side. With any pregnancy, there are uncertainties. With this pandemic, there are more. What I can say is that once your baby is here, everything will change. You're already changing now. I'm sure you can sense the mama bear instinct kicking in. Having a baby is beautiful, magical, and RAW. Yes, it's raw. Literally, it is raw. It is painful. There are strong emotions. AND it is new. You are inexperienced and lacking in skill. You may cry a lot. Your pelvic floor will need mending or your scar will need tending. You may drop the baby on the floor. But you're not alone because for ALL moms, it is raw.
After Gwyn was born, we spent the next 2 weeks cozied up in our bed. Our midwife called it our love nest. We simply enjoyed her and each other. It was magical. I wish it for every new mom. I wish I could go back and experience it again because it was so wonderful. In some countries, moms do this for a month. In the midst of the magic, it was raw. It was hard. My nipples were cracked and bleeding. I had a 3rd degree tear to my perineum that was healing. I had nerve damage to my L4 and L5 nerves. But to be honest, I don't remember the raw as much as I remember the magic of having a new baby.
To some of you, the thought of staying home with a new baby for weeks on end may sound terrible. But here we are sheltering in place, and this is the only thing you can do. I urge you to make the most of it. You will never get these moments back. Believe me, I have an almost 6 year old! Your tiny baby will grow out of the newborn phase ever so quickly. Consider this time as a gift. Seriously. You won't regret it.
My midwife used to say "Mother the mother." You will need to be taken care of. You will need someone to feed you. You will need someone to drop off groceries or food. In our current situation, don't be afraid to ask for help! Make a meal train and have friends sign up. They can drop off food just like caviar drops off food at your doorstep. Or they can buy you a few things at the grocery store when they make their weekly run. People often want to help, but they don't know how.
When you're thinking of nourishing yourself during these postpartum days, choose foods that are high in nutrients and easy to digest. Bone broth soups and stews are an excellent way to do just that. Bone broth is high in calcium, vitamin C, collagen, and many more important nutrients your body needs. Use good fats like real butter, coconut oil, and olive oil. If you decide to breastfeed your baby, know that breast milk is made up of 50-60% fat. So you'll want to make sure you're eating lots of good fat. Skip the refined sugar that depletes nutrients, and instead choose fresh fruit or a healthy dessert sweetened with honey or maple syrup.
Remember your growing fetus (and now growing baby) essentially zapped you of most of your stored nutrients so you'll want to replenish them. This is one reason you'll want to continue taking your prenatal vitamins. You'll also want to continue getting your probiotics through fermented foods like kombucha, sauerkraut, kefir and cottage cheese to help build your little one's immune system. Again if you're breastfeeding, your baby is getting everything through what you're eating. If you're not breastfeeding, you still need to eat nutrient dense foods to restore your lost supplies from being  pregnant!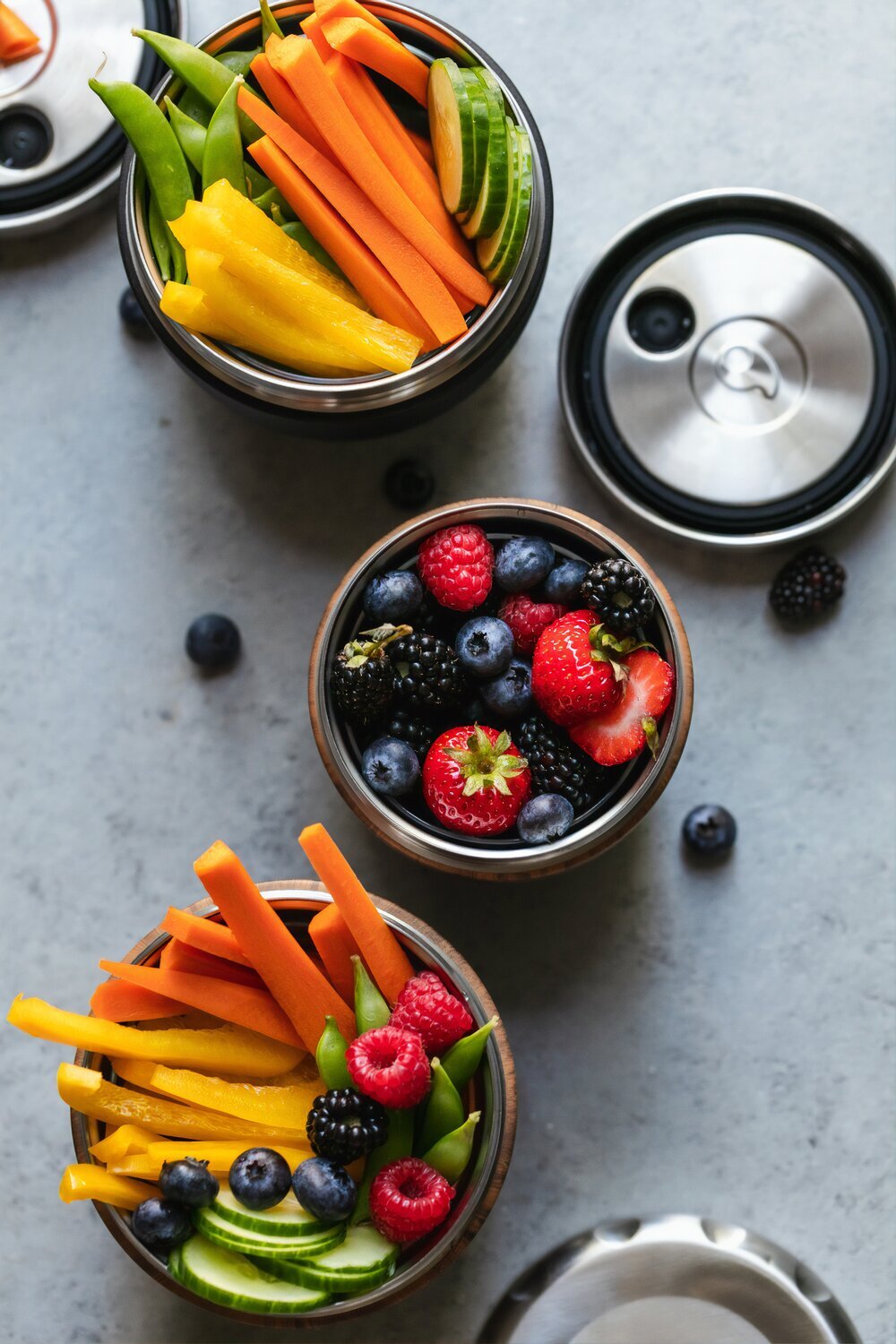 keep these handy for quick nutrient dense snacks & meals:
Bone broth (homemade or store bought) – I like to drink this warm straight from a mug!
Boiled eggs
Cut veggies as well as hummus for dipping
Fresh fruit
Marinated olives
Canned salmon or sardines (Erica, thinking of you!)
Plain yogurt (add fresh berries and honey to sweeten)
Avocado – (add to anything! toast, polenta, salad, beans and rice)
Almond or nut butters
Cottage cheese
Sauerkraut
You can also make meals ahead of time and freeze. I made an easy chicken and rice soup for postpartum, which I ended up eating throughout my long labor! See the recipe below.
Chicken Rice Soup
2 Quarts Chicken Broth
1 Cup brown rice
1 Cup finely diced chicken meat (can use pre-made or leftover chicken)
1 ½ Cups chopped vegetables such as carrots, celery, red pepper, string beans
Sea salt and pepper to taste
Bring broth and rice to a boil.Reduce heat and cook, covered for about 1 hour until rice is tender. Add the vegetables and chicken and cook for an additional 15 minutes until the vegetables are tender. Season to taste.
Taken from Nourishing Traditions by Sally Fallon and Mary Enig
Like most things, waiting doesn't last forever. You will have your baby. The pandemic will come to an end. But this time around when the waiting is finally over, you will not be the same. Nor should you want to be.